Sandwiches, Toasties and Baguettes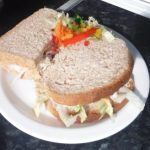 With hot or cold fillings.
A variety of meats, fish and cheeses with bread from the local bakers.
For the 'chip butty' lovers we also serve chips.
Salads
Freshly made salads served with coleslaw and locally made bread.
Fresh green lettuce, cucumbers, golden carrot shavings, purple cabbage with your choice of dressing is the perfect topping for our colorful salad.
With a choice of meats, seafood or quiche.
Related Images: