A guide to the range of teas and seasonal menus on offer at the Tea Rooms.
We have more information about the type of teas and food we offer here.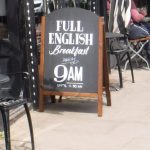 Breakfast from 9 am  our special 3 course Luncheon Menu between 12.00 and 2.15 pm
We also serve coffee, the best freshly ground coffee for miles around whether it be an espresso or latte,
with syrup or not, there is a coffee to suit everyone.
Anyone for tea? Loose leaf tea with lashings of hot water. From Ceylon, Assam, Decaf to Mixed Berry, Peppermint and Green Tea. Choose from 10 varieties and accompanied with one of our home-made scones with jam & cream is a must. Many other teatime accompaniments, toasted tea cakes, a selection of…
Related Images: