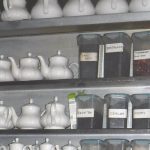 Anyone for tea?
Loose leaf tea with lashings of hot water.
From Ceylon, Assam, Decaf to Mixed Berry, Peppermint and Green Tea.
Choose from 10 varieties and accompanied with one of our home-made scones with jam & cream is a must.
Many other teatime accompaniments, toasted tea cakes, a selection of home-made cakes, fresh cream cakes – far too many to list.
Tudors and Drinks
In the mid 17th century when Charles II married Catherine of Braganza, tea-drinking became fashionable.
In the late 17th century there were coffeehouses in English towns.
Cocoa also came to England in the late 17th century from Central America.
We serve all three to this day.
Related Images: