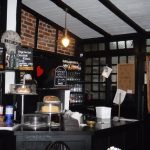 Morning coffee is served, the best freshly ground coffee for miles around.
Whether it be an espresso or latte, with syrup or not, there is a coffee to suit everyone.
In the hot weather our iced coffee is very popular. All with Freshly ground beans.
We have a range of freshly made sandwiches, toasties and baguettes that will compliment any of the coffees on offer.
We have many teatime or coffee accompaniments, toasted tea cakes, a selection of home-made cakes, fresh cream cakes – far too many to list.
In Tudor times people ate spiced buns especially on Good Friday, lovely with a coffee. There were many coffeehouses in English towns in the late 17th century.
Related Images: